All Team HRC riders that will compete in the 2015 edition of the Dakar Rally will be officially presented in Buenos Aires on January 3. With them will also be the members of Honda South America Rally Team.
The Team HRC and Honda South America Rally Team will be officially presented next Saturday, January 3, at the auditorium of the Press Office of the Dakar Rally, located in the Technopolis park, Buenos Aires (Argentina).
The eve of the 2015 Dakar Rally will be the official presentation of the Team HRC that will take part in the race, with its riders Joan Barreda, Paulo Goncalves, Helder Rodrigues, Jeremias Israel and Laia Sanz, and the Honda South America Rally Team Javier Pizzolito, Jean Azevedo, Daniel Gouet, Cacha Rodriguez and Demian Guiral, in addition to those responsible for the different teams of Honda.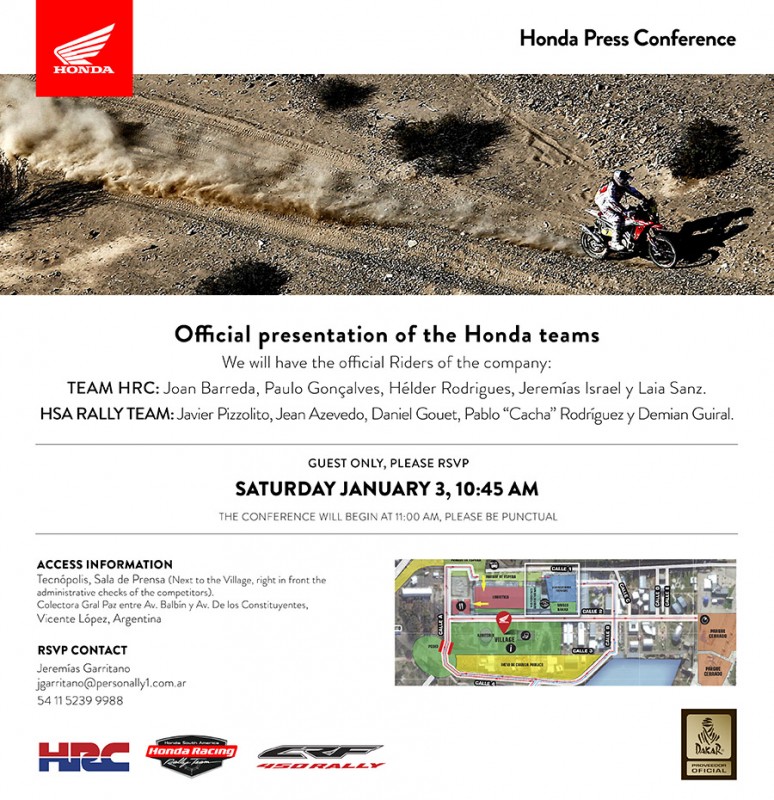 Location Information
The greatest and toughest rally in the world, the Dakar's history has been written in the heart of some of the world's most stunning deserts and belongs to the world of the greatest sporting challenges of our time. Both a motor race and an orienteering challenge, the Dakar Rally pits… read more.
Lima, Perú - View in Google Maps