Ricky Brabec's life took a radical turn when desert races became popular in the United States. His interest in bike racing, or more specifically desert racing, grew quickly and his incredible talent led to a fast improvement in riding skills too.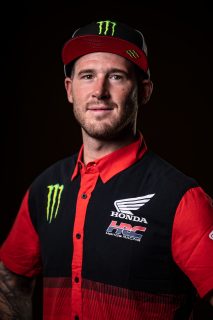 Background
It has been an intense career so far for youngster Ricky Brabec, signed up for his first Dakar Rally at just 24 years of age. The American, does however, have a lengthy list of titles to back him up; the youth from the U.S. had his best season to date in 2014, when he achieved the three most prestigious titles in desert racing: the Hare & Hound, Best in the Desert and Score, collecting the Baja 1000, Baja 500 and the Baja 250. Such an impressive honours list didn't go unnoticed to Team HRC who scouted the youth before inviting him to take part in the Abu Dhabi Desert Challenge in early 2015, his first international participation, where he was the top Junior and fifth overall. After an injury, he returned to the Hare & Hound, winning the last race.
In the Dakar Rally, the big adventure, makes a very good progression from it's first rally showing his great potential in South America to the best of results, winning the 2020 edition and making history for the American motorsport: the first American to win the Dakar Rally. In 2021 he was again in the podium, finishing second after winning four stages.
Career Information
| | |
| --- | --- |
| 2022 | 7th place Dakar Rally |
| 2021 | Runner-up Dakar Rally. 4 stages win |
| 2020 | Dakar Rally Winner. Two stages win |
| 2020 | Winner Sonora Rally. Winner Vegas to Reno |
| 2019 | 5th place Morocco Rally |
| 2019 | Winner Sonora Rally |
| 2019 | Dakar Stage 4 winner |
| 2018 | 3rd place Morocco Rally |
| 2018 | 5th place Desafio Ruta 40 |
| 2017 | 1st time Stage winner at World Championship (Morocco Rally) |
| 2017 | Dakar 1st stage winner (Stage 7, La Paz-Uyuni) |
| 2017 | Winner Vegas to Reno |
| 2016 | 9th place Rally Dakar |
| 2016 | Winner Hare&Hound AMA Championship |
| 2015 | 2nd Hare&Hound AMA Championship; Best Junior rider Abu Dhabi Desert Challenge, 5th place overall |
| 2014 | Champion Hare&Hound AMA Championship; Winner San Felipe 250; Winner Baja 500; Winner Baja 1000; Winner Vegas to Reno; Winner Imperial Valley; Winner SCORE International Pro Motorcycle |
| 2013 | Winner 'Best in the Desert' series |
| 2012 | Runner-up 'Best in the Desert' series |
| 2007 | Start in off-road competition. District 37 series |
Rider Statistics
| | |
| --- | --- |
| Date of birth | 21st April 1991 |
| Birthplace | Mira Loma, California, United States of America |
| Residence | Oak Hills, California, United States of America |
| Height | 185 cm |
| Weight | 95 kg |
| Hobbies | Jet ski, Mountain bike, Road cycling |