Paulo 'Speedy' Goncalves is a veteran with a very lengthy off-road honours list including victory in the 2013 Cross-Country Rallies World Championship and runner-up spot in the Dakar 2015.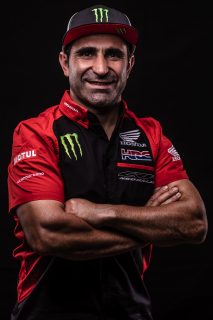 Background
His pace, his skill to adapt to terrain types and his capacity to analyse stages are just some of the abilities of this multi-faceted rider, who has developed greatly with experience. Goncalve's Dakar debut took place in 2009, collecting his first stage victory two years later. Both positive thinking and easy-going, the Portuguese rider never stopped believing in his abilities and went on to win the Cross-Country Rallies World Championship in 2013, closing the year with triumphs in an intense Sertoes Rally and a thriller in Morocco.
An unfortunate fifth stage put an end to his dreams of victory in the Dakar 2014 and in spite of conceding the world title the Portuguese rider fought a gutsy battle until the end. Speedy made up for his misfortune by storming to a second place overall finish in the 2015 Dakar. Meanwhile, he took the bronze medal in the world championship with podiums in Qatar and Morocco. He also won the Argentinean Desafío Ruta 40.
Career Information
| | |
| --- | --- |
| 2004 | Enduro National Champion, ISDE Gold Medal |
| 2005 | Enduro National Champion |
| 2006 | 25th overall Dakar, Motocross National Champion |
| 2007 | 23th Dakar Overall, SX National Champion |
| 2008 | MX National Champion, SX National Champion |
| 2009 | 10th Dakar Overall, 2nd Dakar Class 450cc, 1st Dakar super production amateurs |
| 2010 | TT National Champion, Cross Country National vice champion |
| 2011 | Cross Country German Champion |
| 2012 | 4th overall cross country rally world championship |
| 2013 | 10th overall Rally Dakar. FIM World Champion Cross-Country Rallies. Winner Rally dos Sertoes. Winner Rally OiLibya Maroc. 2nd Abu Dhabi Desert Challenge. 2nd Qatar Sealine Cross Country rally |
| 2014 | FIM vice-champion Cross-Country Rallies. Winner of Abu Dhabi Desert Challenge. 2nd place in Rally dos Sertoes |
| 2015 | Dakar Rally runner-up, 3rd place FIM Cross-Country Rallies |
| 2016 | 3rd place Desafío Ruta 40. 4th place Atacama Rally. |
| 2017 | 6th overall Rally Dakar. |
Rider Statistics
| | |
| --- | --- |
| Date of birth | 5th February 1979 |
| Birthplace | Esposende, Portugal |
| Height | 168cm |
| Weight | 75kg |
| Hobbies | Jet Sky, Card Games, Cinema |