Undoubtedly, the year 2018 will be one that audacious José Ignacio Cornejo will not forget in a hurry. Having already ruled out the possibility of racing in the 2018 Dakar Rally, Paulo Gonçalves' last-minute injury while preparing for the race, gifted the Chilean with a golden opportunity. Nacho was on hand at the 'shakedown' in which Paulo Gonçalves had to concede that he was not in physical conditions to race the Dakar and was subsequently forced to drop out. Cornejo debuted on the Honda CRF450 RALLY on the same day.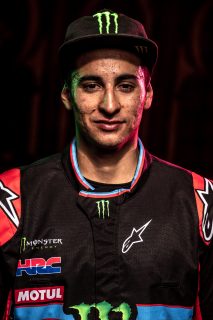 Background
The appointment of Nacho Cornejo to sit in for Paulo Gonçalves, and make use of his bike, turned out to be a success and the Chilean rider proved to be very quick, and surprising everyone with his quick adaptation to both bike and team. Cornejo finished the Dakar Rally in tenth place, the highlights of which were a fifth place in the tenth stage and a seventh spot in stage four, where he provisionally held seventh position in the general standings. With results like these and the attitude shown by the young rider, Cornejo was an obvious choice as the new official HRC rider. The agreement with the Chilean will run for three full seasons – until the end of the 2021 Dakar Rally – with his maiden race as an official rider set for the FIM World Championship Cross-Country Rallies at the Abu Dhabi Desert Challenge.
Nacho Cornejo's role of honour includes a world title: the Cross-Country Rallies Junior Championship which he won in 2016. In 2015 he finished tenth in the Desafío Ruta 40 and the Atacama Rally. He debuted in rally competitions back in 2012 at the Desafío Inka, where he posted second overall.
Career Information
| | |
| --- | --- |
| Birthdate | 5/7/1994 |
| Birthplace | Iquique, Chile |
| | |
Rider Statistics
| | |
| --- | --- |
| 2020 | Dakar Rally: 4th position |
| 2019 | Dakar Rally: 8th position |
| 2018 | Dakar Rally: 10th position |
| 2016 | FIM Cross-Country Rallies: Junior champion |
| 2016 | Dakar Rally: withdraw stage 5 |
| 2015 | Atacama Rally, 10th position overall; Ruta 40, 10th position overall |
| 2015 | FIM Cross-Country Rallies: 3rd position Junior Cup |
| 2014 | Inka Rally, 2nd position; Desafío del Desierto, 2nd position |