Joan Barreda - currently the most talented rider on the Cross-Country Rallies scene - will make his ninth participation in the Dakar Rally in the forthcoming 2019 edition. It is a speciality in which he has continued to achieve all kinds of successes since beginning in 2010.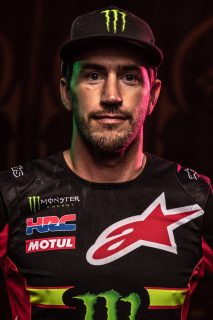 Background
The Spaniard's career began in motocross, where after demonstrating both talent and speed, was selected by the Spanish Federation to compete in the 125cc World Championship, before a serious injury kept the rider out of the competition for a long spell. After a stint in enduro he moved on to rally-raid where he was discovered by Wolfgang Fischer, after clinching the 2012 Baja Aragón. No sooner had he been signed up for the team when he brought home the first success, taking the top step of the podium in the Pharaons Rally. 2013 saw the rider pick up some excellent results including four stage wins in the Dakar Rally with a sensational performance, as well as a podium finish in the Morocco Rally.
Barreda shone in the Dakar 2014, grabbing five stage victories and was in the running for the overall win until a heavy fall in the penultimate stage meant having to accept seventh place. In the world championship, Barreda triumphed in Qatar and was third in Abu Dhabi and third overall in the World Championship.
In 2015 he rode an intelligent race in the Dakar which he led convincingly until the ill-fated Uyuni Salt Lake stage, which put an end to his aspirations of an overall win. In spite of the mishap Joan came away with four stage victories. He got off to a better start in the Cross-Country Rallies World Championship winning the Abu Dhabi Rally and finishing second in Qatar.
Career Information
| | |
| --- | --- |
| 1993 | Motocross Spanish Champion |
| 1996 | Motocross Spanish Champion |
| 1998 | Motocross Spanish Champion |
| 2000 | Motocross Spanish Champion |
| 2001 | Motocross Spanish Champion |
| 2002 | Racing in MX world Championship 125 |
| 2011 | First participation at Dakar Rally |
| 2012 | Winner Baja Aragon, Winner Pharaons Rally, 11th overall at Dakar & 5th overall Cross Country Rally World Championship |
| 2013 | 17th overall Dakar with 4 stage wins |
| 2014 | 7th overall Dakar with 5 stage wins, winner in Sealine Qatar rally, 3rd in World Championship |
| 2015 | 17th overall Dakar with 4 stage wins |
| 2016 | Winner Baja Aragón. Winner Vegas to Reno. Winner China Grand Rally. 2nd Desafio Ruta 40 |
| 2017 | 5th overall Dakar with 4 stage wins. Winner Baja Aragón. Winner Vegas to Reno. |
| 2018 | Winner Merzouga Rally |
| 2019 | 3rd place Atacama Rally. 3rd place Rallye du Maroc |
| 2020 | 7th place Dakar Rally. 1 stage win |
Rider Statistics
| | |
| --- | --- |
| Date of birth | 11th August 1983 |
| Birthplace | Castellon, Spain |
| Residence | Canillo, Andorra |
| Height | 180cm |
| Weight | 74kg |
| Hobbies | Snowboard, wakeboard, surf |